Our new Rollout Trackway being put to good use for a local art install.
Our trackway is available in 21M and 29M Rolls, Individual Alloy Sheets, 80x Plastic Sheets and Steel Sheets.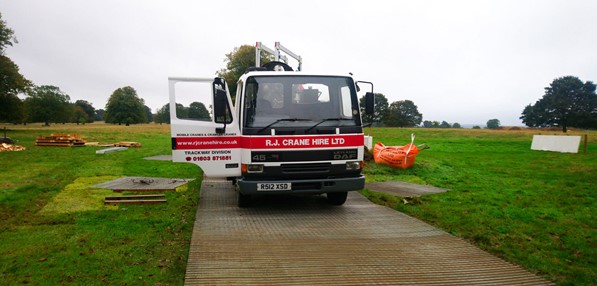 Our aluminium rollout trackway offers a robust and heavy-duty solution for Construction Projects, Cranes, Outdoor Flooring, Pedestrians, Temporary Roadways & Compound Areas, Very Heavy Machinery.
Available in:
80x Plastic Trackway (1.2M x 2.4M Sections),
Ekki wooden mats (1M x 2.5M, 1M x 3M and 1M x 5M)
4x Steel Plates (1.22M x 2.44M).
For more information or any requirements for a quotation, just call us on 01603 871851 for a fast response.